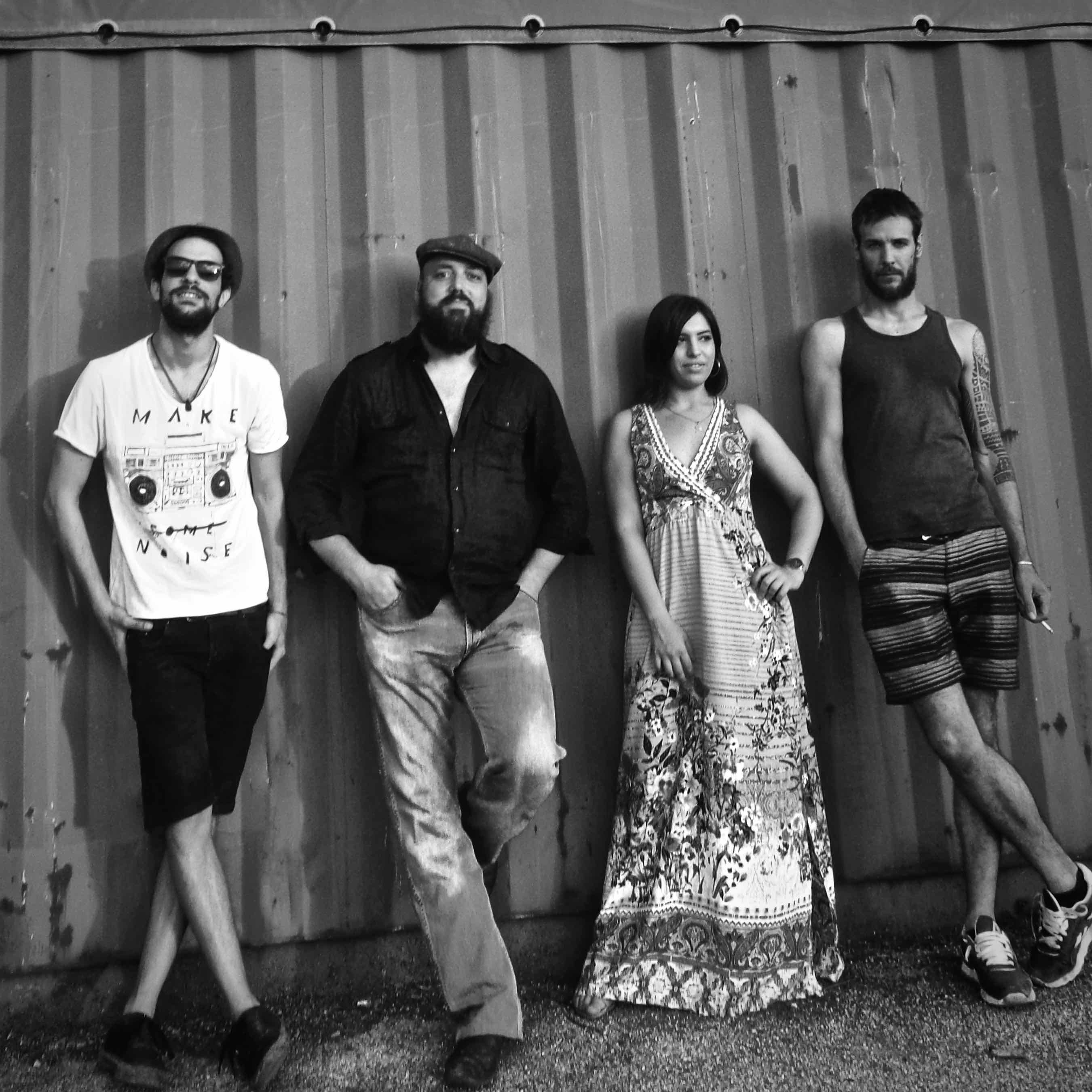 Aberdeen Rail Station, June 2019. Left to right: Alex Mavridis, Eno Jakomin, Tullia Romagnoli and Nemanja Vujić. Photo: Giada Ventura.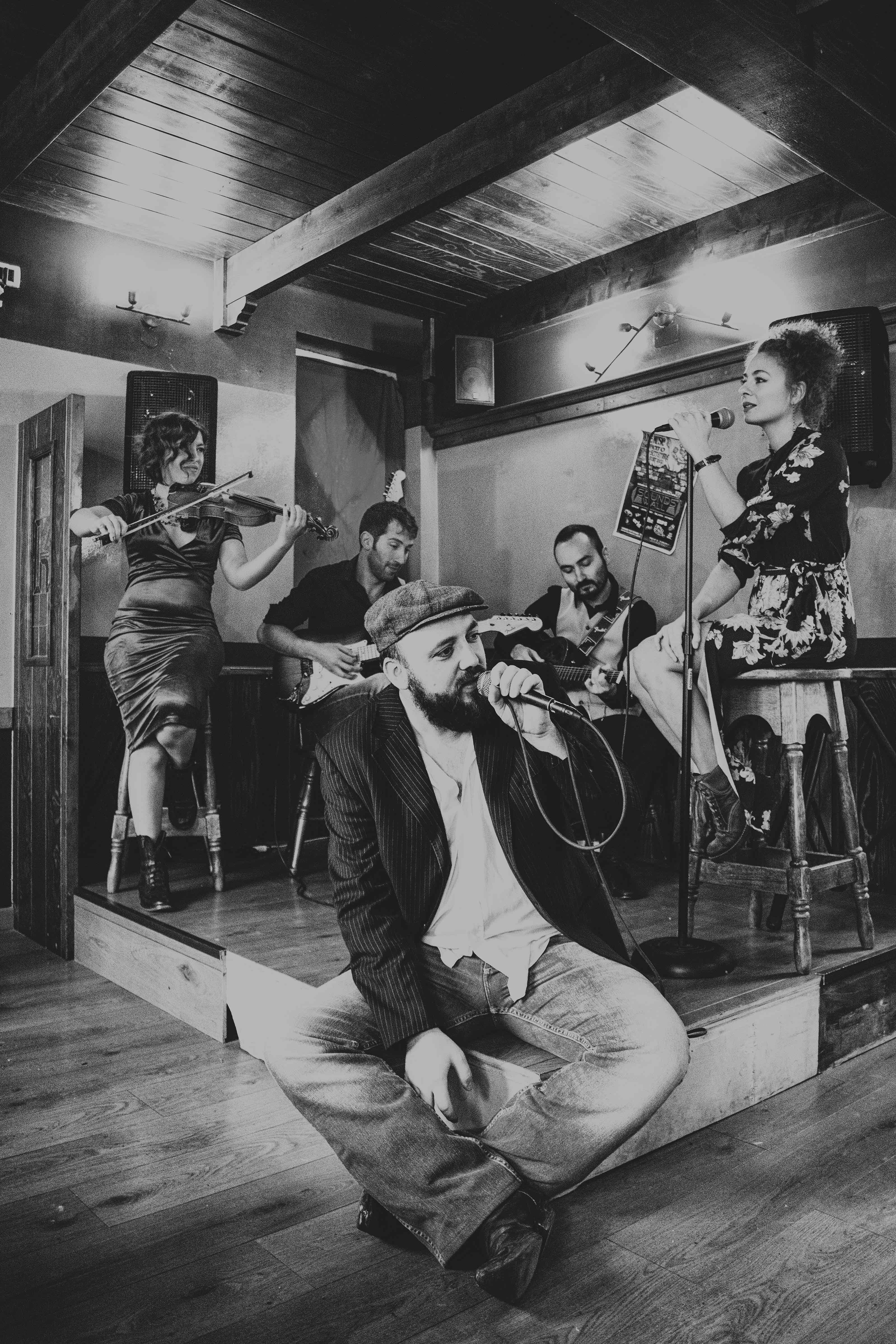 Aberdeen Rail Station, November 2017. Left to right: Tullia Romagnoli, Simone Calmo, Eno Jakomin, Andrea "Assa" Sauli, Federica Vinci. Photo: Matilde Zacchigna.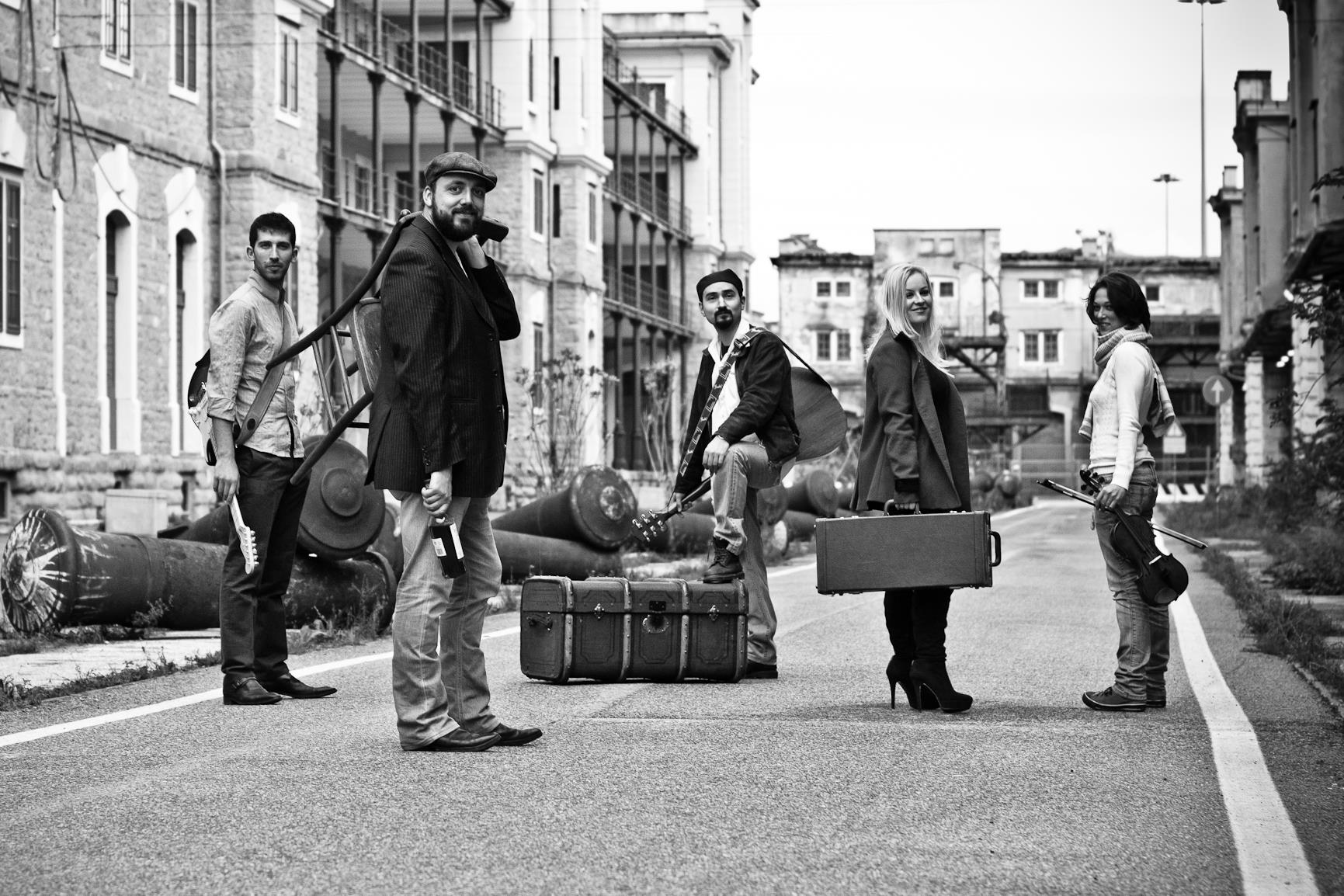 Aberdeen Rail Station, November 2013. Left to right: Simone Calmo, Eno Jakomin, Andrea "Assa" Sauli, Adriana "Ada Pikula" Tomisic and guest fiddler Giovanna Rados. Photo: Rocco Chiappetta.
Aberdeen Rail Station is a pub band. Its sound is made of rock and blues and everything related, with elements of the British folk. Aberdeen Rail Station's setlists consist mostly of originals, which mostly tell surrealistic stories that often come from real life indeed. Also part of the band's repertoire are some covers (AC/DC, Rory Gallagher, Johnny Cash, some traditionals) rendered in the band's peculiar style.
Founded in Trieste in 2001, the band in almost twenty years went through many personnel changes, during which a lot of musicians worth of notice both entered and exited the line-up (a list of the current and former members is available at the section "band" of this website). In 2007 the Aberdeen Rail Station project was briefly relocated to Edinburgh.
Now based between Trieste and Aquileia, the band currently consists of:
Eno Jakomin: voice and occasional harmonica
Tullia Romagnoli: fiddle and electric violin
Efstriatos Alexandros Mavridis: acoustic guitar, vocals and occasional harmonica
Francesca Bernardi: vocals
Michele Colautti: bass guitar
---
---
Aberdeen Rail Station è una pub band. Il suo suono è dato da rock e blues e affini, con elementi di British folk. Le scalette dei concerti dell'Aberdeen Rail Station sono costituite perlopiù da brani originali, che perlopiù raccontano storie surreali che spesso derivano dalla vita reale. Accanto ad esse vengono proposte alcune cover (AC/DC, Rory Gallagher, Johnny Cash, alcuni tradizionali) rese nel peculiare stile del gruppo.
Formatasi originariamente a Trieste nel 2001, la band in quasi vent'anni è passata attraverso molti cambi di formazione, durante i quali molti musicisti degni di nota sono entrati nella formazione e ne sono usciti (una lista dei membri del gruppo, presenti e passati, è disponibile alla sezione "band" di questo sito). Nel 2007 il progetto Aberdeen Rail Station è stato trasferito per un breve periodo a Edinburgh.
La band, che ora ha la sua base operativa tra Trieste e Aquileia, è attualmente formata da:
Eno Jakomin: voce e occasionale armonica
Tullia Romagnoli: violino acustico ed elettrico
Efstriatos Alexandros Mavridis: chitarra acustica, voce e occasionale armonica
Francesca Bernardi: voce
Michele Colautti: basso